The new VR experience Star Wars: Jedi Challenges is bringing fans one step closer to the ultimate dream – having lightsaber battles in your own home with classic villains from the galaxy far, far away. The new smartphone-powered augmented reality experience from Lenovo Mirage that allows you to play three games – lightsaber battles, holochess, and strategic combat – is being called an "authentic and surprisingly intense" experience, which is not surprising considering the detail that went into making Jedi Challenges feel as realistic as possible.
For $199, included in the box are a headset, lightsaber controller (Originally Anakin's lightsaber, which was passed down to Luke, and is now Rey's), and tracking beacon. You download the official smartphone app, put your phone in the headset and turn on the tracking beacon, once you're set up you grab your lightsaber and are ready to check out the three experiences. The first one, lightsaber battles, allows you to fight against Star Wars villains starting with Darth Maul, Darth Vader, Kylo Ren, the Seventh Sister, and the Grand Inquisitor. The second one, strategic combat, makes you the commander as you control and place forces of the Rebellion, Republic or Resistance in a tower-defense clash with the Empire, Separatists or First Order on a 3D playfield. The last experience is holochess, the Jedi Challenges' version of dejarik seen in A New Hope, where you play monster chess against the AI.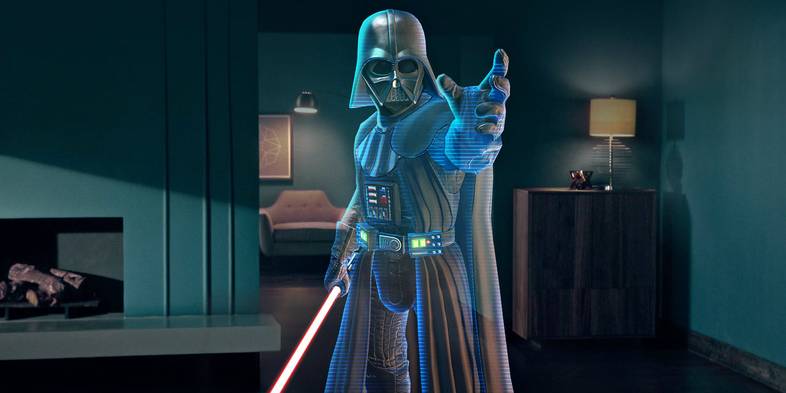 The game is a lot to wrap your head around, but StarWars.com features an interview with Mike Goslin, VP, Advanced Development at Disney, about how they created such a ground-breaking experience for fans, coming up with the best way to make lightsaber fighting realistic and more. Here is what he said about the challenges they faced with creating believable lightsaber dueling (pool noodles were heavily involved in the process):
"We started off thinking less about platforms and [more about] how could we deliver the best lightsaber experience. We very quickly came to augmented reality as the best way to do lightsabers.

"We knew it was going to be really compelling to have a life-size character right up in your personal space. That's really intense and dramatic. We knew we could do that. But we didn't know we could actually do sword fighting, because it's a really specific thing. And without making contact, does it even feel right? So we spent a lot of time, I'm embarrassed to say, out in the quad here with pool noodles, working out 'What are you going to want to feel like when you're dueling?' We spent a lot of time making the A.I. good, but not too good. We found out pretty early on if you get everything to line up — if you have a little bit of a haptic feedback in your hilt, and the visual is telling you that you've contacted something, and the character that you're battling reacts appropriately, and the audio supports that — you start to buy into it."
Star Wars Comes To Life With Jedi Challenges VR Experience
This is a brief review summary, donec at risus accumsan, vehicula ante eu, bibendum lorem. Nullam rhoncus arcu a ligula dapibus laoreet. Integer eget libero id turpis tempor posuere et a lectus.